How To Build a First Aid Kit For Allergies
Disclosure: This shop has been compensated by Collective Bias, Inc. and its advertiser. All opinions are mine alone. #SootheYourSoreSpots #CollectiveBias
As a sports mom, I spend lots of time on the sideline. Long days at the track or in the stands can take a toll on your body. It's just as important for moms to stay fit and healthy as it is for our young athletes. Especially when you have severe allergies like I do. So for days on the sideline and days away from home, I keep an allergy first aid kit on hand with a little help from Target.
Seasonal and Outdoor Allergies
There are few spring and summer outdoor sports that aren't played on grass. Thankfully, that lessens the chances of cuts and scrapes for your little slugger. But the pollens, dust, and airborne allergens are increased significantly. Runny noses, itchy eyes and sneeze attacks can make for a miserable time. I keep Benadryl Ultratabs, Visine A Eyedrops, and peppermint oil in my first aid kit.
Bug Bites and Itchy Spots
When I was pregnant with Olivia I made Harold buy me a porch swing. I would sit out on the porch and read, or just enjoy the fresh air. That was until I got stung by a bee and discovered I am allergic to bee stings.  To promote a peaceful coexistence while on the sideline we use bug repellent and avoid leaving food or drinks out.  But it's hard to avoid bugs completely since we are technically in their space. I keep the Benadryl, Band-Aids, antibiotic ointment and anti-itch spray ready for unavoidable incidents.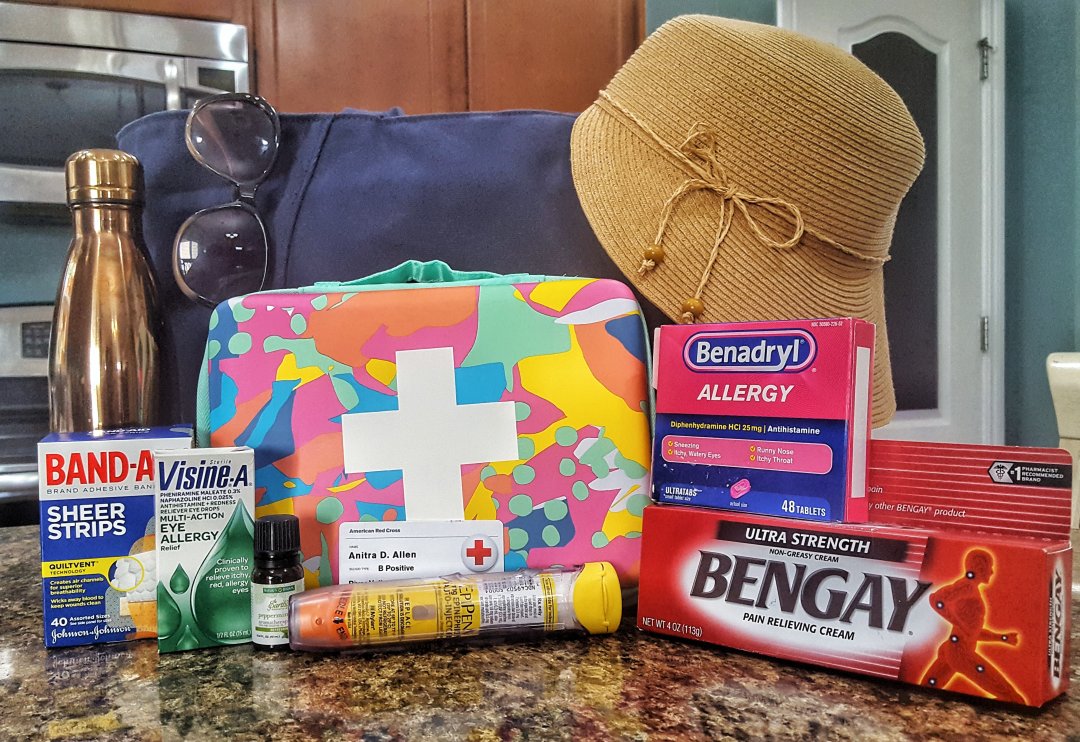 Shop these items directly from Target online by hovering over the image above.
Food and Anaphylactic Allergies
The most important thing I keep in my first aid kit is
my EpiPen
. I am allergic to peanuts, bananas, citrus, and shellfish. Oranges and bananas are common after game snacks for athletes. When you have allergies like I do you must be very careful in public places.
Many don't realize that even the smell of some allergens can be dangerous for those who are allergic. Food is seemingly harmless; I mean we have to eat to live, right? But as a mom with food allergies who has children with food allergies, I can never be too cautious.
Stress, Tension, Aches, and Pains
I also keep BENGAY®Ultra Strength Cream on hand. I know this may seem like an odd addition to the list of things one may need for an allergy first aid kit. BENGAY® Ultra Strength Cream helps temporarily relieve the muscles aches I experience as a sports mom.
After a long day on the sideline, BENGAY®Ultra Strength Cream helps with the stiffness and sore muscles from sitting on bleachers, standing in the stadium and walking back and forth all day. I'm not in high school anymore. And my body reminds me of that every weekend.
Medical Emergency Needs
The last things I keep in my first aid kit are my Blood Donor Card and a copy of my insurance card. In the midst of a medical emergency, having those items on hand can be lifesaving. As a 20+ year blood donor, I know that I have an uncommon blood type. Help yourself and learn your type.
Keeping My First Aid Kit Stocked
We travel the country with our athletes and dancer. Thankfully, when we're on the road, I can restock my first aid kit by shopping online at Target and picking up my items in any local store on the same day. Get a free first aid kit bag when you purchase three (3) Johnson and Johnson products to put in it. I just love the colorful pattern of the Oh Joy Bag.  It makes me feel better about needing to keep so many life-saving items on hand.
©Johnson & Johnson Consumer Inc. 2017 The third party trademarks used herein are trademarks of their respective owners.
How do you #SootheYourSoreSpots from the summer sideline? What products will go in your first aid kit?